At The Grant County Bank, our roots run deep in these mountains. We've been here for over 115 years and we take pride in supporting our local communities and the organizations that work to make our area a better place to live. Below you will find some of our recent contributions that bear out the fact that "Committed to the Communities We Serve" is more than just our slogan, it is our practice.
---
Grant County Bank Relay For Life Golf Tournament Chairman Jared N. Amtower presents a check for $5,115.00 to Lorna Liggett of the Potomac Highlands Relay For Life for the 17th Annual Relay event that was held on June 8, 2018 at Valley View Golf Club.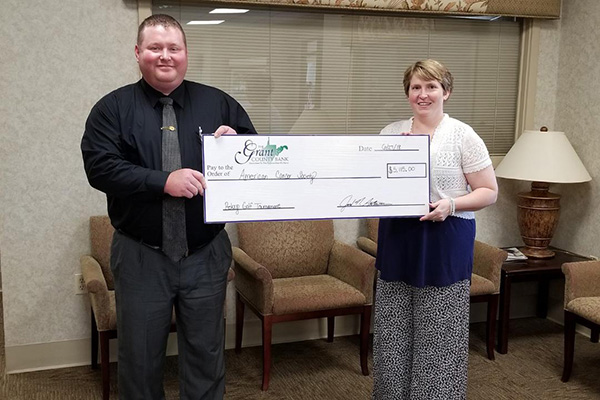 ---
We are pleased to announce a $10,000 contribution to the Grant County Historical Society to support their efforts to renovate the old Grant County Courthouse building in Petersburg. The Historical Society plans to restore the old Courthouse and use it as a museum in the future. Their goal is to raise $500,000 to fund the renovations. Pictured are George Ford and Jeffrey Reedy from the Grant County Bank along with John Reel and Gerald Sites representing the Historical Society.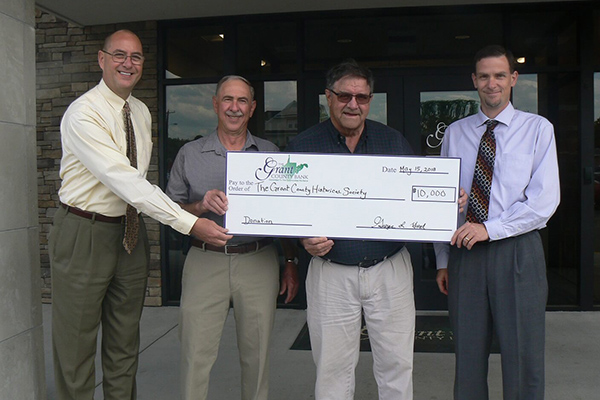 ---
The Grant County Bank recently contributed $10,000 to the new nursing program at Potomac State College. The $10,000 donation will be used to purchase a patient care bed in the School's state-of-the-art skills lab and simulation facility. The skills lab will allow nursing students to practice patient care in a multitude of medical scenarios. "Generous donations like the one from Grant County Bank will supplement our program funding to help ensure our Keyser Campus BSN students are learning in the most state-of-the-art, evidence-based simulation environment possible," said April Shapiro, PhD, RN and BSN chairperson for WVU School of Nursing Potomac State. "We are so grateful for their generous donation." Pictured are George Ford and Tracy Kesner from The Grant County Bank and Lucas See and April Shapiro from Potomac State College of WVU.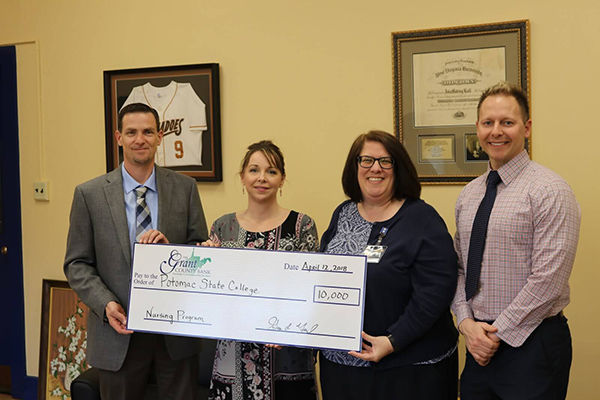 ---
We were happy to be able to assist the Elkins Rotary Club in meeting their fundraising goal to build a new amphitheater in downtown Elkins. The bank contributed $5,000 to the project, which is intended to be complete in time for the Forest Festival in October. Pictured are Hoy Ferguson and Carl Nichols from the Elkins Rotary Club and George Ford and Stephanie Roy from The Grant County Bank.